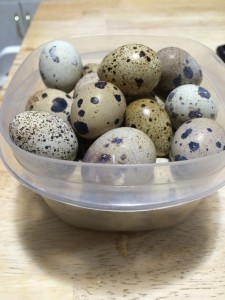 I had to come up with a side dish to bring to my sisters birthday party.  Looking through the fridge I found that I had about 30 quail eggs saved up that needed to be used so I decided to devil them and thought I would share the recipe.
This is one of my favorite ways to eat quail eggs. First of all, I just love deviled eggs and the small size of the quail eggs makes them just that much better. Something about a bite size deviled egg that is just irresistible.
The process itself is pretty simple.  Start off by hard boiling your eggs.  This really isn't any different than hard boiling a chicken egg except the smaller size means a much shorter cooking time and a little more attention needed.  You only need to boil the eggs for 4 minutes but you need to make sure you stir them gently as they boil to keep the yoke from sticking to one side of the egg.  I put together a short video if you would like a visual guide.
After your eggs are boiled you need to get them peeled.  Quail eggs are a little tougher to peel than regular chicken eggs.  They have a thicker and tougher membrane between the shell and the egg itself and the delicate nature of the egg makes it somewhat difficult to peel without cracking the egg itself.  I have learned a trick or two to help with this.  Check out the video below as it is hard to explain in text.
Once you have the eggs boiled and peeled cut them in half and remove the yokes.  Make sure to put the yokes in a bowl.  Now you can pretty much use any deviled egg recipe you like.  If your recipe calls for 1 dozen chicken eggs just divide the measurements by 5 and that is a good starting place for 1 dozen quail eggs.  I tend to start there and then adjust based on tasted.  My favorite quail egg recipe for deviled eggs is nothing more than a mix of mayonnaise, yellow mustard, and salt.  Below is a base recipe to get started with.
The yoke from 30 quail eggs
2 tablespoons of mayonnaise
2 teaspoons of yellow mustard
½ teaspoon of salt
Mix all ingredients together with a fork until smooth and well blended.  Taste the yoke mixture.  If you want it to be creamier add a little more mayonnaise.  If you want it to be a little tangier add a little more mustard.  Make sure you add only small amounts at a time.
Once you have it tasting the way you want it just load the mixture into a zip lock bag, snip the corner off and pipe it into the empty egg shells.  Sprinkle with a little paprika and you are all set.  Check out the video below for a visual tutorial.
These are always a big hit with any party.  It really isn't that much work but everyone will think that you slaved over them.
Thanks for reading and let me know if you have a favorite recipe for deviled eggs.