Slightly Rednecked is a place to be informed and entertained.  It is full of useful tips, gear reviews, and instructions on all kinds of things that will help the average person become a little more self sufficient.  I have a passion for Jesus Christ, fishing, hunting, shooting sports, and gardening so you can expect to see all kinds of great information and "how to's" regarding these topics…all from a just ever so slightly rednecked perspective.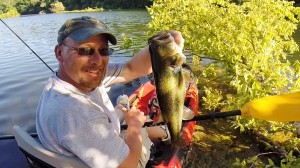 Some interesting facts about me:
First and foremost I am a Christian and am very active in my church (I currently serve as an elder).
I grew up in a small town in Southwest Missouri.  After a short stay in the piney woods of East Texas (about 7 years), I moved back to my hometown and have been living here ever since.
I am recently divorced (turns out my ex wife did not like being a Christian and traded me in for someone more her style).
I am not a picky eater but I strongly dislike the things that most people really enjoy such as bologna, hot dogs (they taste like bologna), yellow mustard, and citrus fruits (especially pineapple).
I currently serve as an assistant scout master for my son's Boy Scout troop (he is about to get his Eagle).
As a child I had a fascination for reptiles and amphibians and dreamed of becoming a herpetologist.  At one time in my early 20's I owned approximately 40 snakes.
I have an addiction to Pepsi/Coke (either one is fine with me).
I can juggle (but not for very long at a time and definitely not chainsaws).
I believe that there are two types of people, those that love cilantro and those that hate cilantro…I am a "love cilantro" type of guy.
I have terrible spelling.  I used to feel really bad about it but I read a study that said people with higher IQ's often have a hard time spelling so I am using that as an excuse.
I would love to hear from you so please feel free to comment below or contact me here.