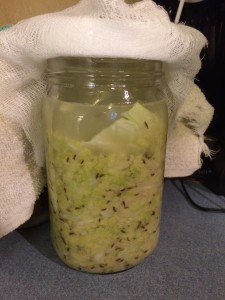 If you plant a garden you understand the sheer abundance of produce you can end up with at the end of the summer.  You can't possibly eat it all right now so you need to figure out a way to store it and make it last through the winter.  You can preserve most fruits and vegetables by canning them, freezing them, or dehydrating them but there is a very old method of preserving this bounty that also provides your body with those probiotics everyone is talking about needing.  Really, it is a bonus that they are good for you because lacto-fermented vegetables are delicious enough that you would want to make them even if they were terrible for you.
What is Lacto-Fermentation?
In its simplest form, lacto-fermentation is the process of fermenting vegetables by creating an environment that is hostile to the "bad" bacteria but nourishes the "good" lactobacillus bacteria that are responsible for turning the sugars into lactic acid.  Basically it is nature's way of doing the same thing we do when we water bath can vegetables and add vinegar (acid) to lower the PH and make it safe for preserving.
The Lacto-Fermentation Process
This all sounds very complex but is actually incredibly easy.   There are plenty of guides out there that explain the process in great detail but I am all about simple.  If you want to "geek out" on this stuff you can find plenty of in depth study's and full explanation of how the bacteria work and read for hours. So here is my super simple explanation of how to ferment vegetables with lacto-fermentation.
Step 1 – Place your vegetables in a container that can be sealed off from air (but allow carbon dioxide that builds up during the fermentation process escape)
Step 2 – Add a salt water brine (or just salt to high moisture vegetables) to completely cover the vegetables.  Common brine is 1.5 Tablespoons of a fine non iodized salt to 2 cups of water
Step 3 – Weigh the vegetables down so they stay under the brine
Step 4 – Close the container so that air can't enter it but carbon dioxide build up can escape
Step 5 – Put the jar in a warm area until it is finished (tastes the way you want it to)
That's a little over simplified but not much really.  As long as you keep your vegetables under the brine and covered with salt water they will ferment.  It is just a question of how long it takes. That depends a little on how warm the environment is.  Warmer environments will ferment faster than cooler environments.  You should start tasting your vegetables after about a week to see how they taste.  The longer you wait the tangier the vegetables will get.  When it tastes the way you want it to transfer it to the refrigerator to drastically slow the fermentation process.  Expect the vegetables to keep for a few months after that.
Fermentation Containers
The container is probably the most important part of the process in my opinion.  You need something that won't harbor bacteria, is easy to clean, can be sealed in a way that oxygen can't enter but carbon dioxide can escape.  These are anaerobic bacteria, if you get too much oxygen you will get mold and your vegetables will spoil (don't worry, you will know if it went wrong, just trust your nose).  A healthy fermentation will show a white film on top and a cloudiness to the broth but if you see green and blue in the film it is likely mold and will smell moldy (throw it out).
The qualifications pretty much limit the materials to stainless steel, ceramic, or glass since none of these are porous enough to really hold bacteria and call all be cleaned effectively and easily.
There are special fermentation crocks you can buy that are generally ceramic.  If you purchase one make sure to get one with an airlock lid (like this one).
If you are just starting out you may not want to invest in an expensive crock.  In fact, there are lots of reasons I don't ferment in the crock most of the time.  Mostly because those things are huge and I don't always want to ferment 7 quarts of sauerkraut at a time.
I have discovered that Mason jars make excellent fermentation crocks.  You can easily make an airlock for them and the small 4 ounce jars fit right down inside the neck of a wide mouth Mason jar to act as a weight.  I have a pretty good video showing how I make mine for about $6 each.
Some Thoughts on Fermentation Brines
The brine works as an antibacterial of sorts.  The aerobic "bad" bacteria (mold and stuff) don't do well in high salt environments.  This works out well for us because the anaerobic "good" lactobacillus bacteria thrive there.  You can add whatever spices you want to your vegetables as long as you use the brine listed above to cover everything.
Some vegetables don't need water.  Cabbage for example has enough water in it that you simply sprinkle it with salt and massage it a little to draw the water out.  You only need to add additional brine if there is not enough liquid to cover the fermentation.
What do Fermented Vegetables Taste Like?
It is hard to describe.  They are very similar to pickles but have a unique flavor.  Sauerkraut is probably the one thing that most people are familiar with.  Different vegetables have slightly different properties and tastes but that "twang" is always present.  It may be stronger or weaker depending on how long you ferment.
Another nice thing is that your vegetables stay crisp and crunchy.  Since you are not canning them in hot water or under pressure they don't get mushy.  You can absolutely can your fermented vegetables with a hot water bath canner.  The flavor will be the same but you will make the vegetables mushy and will kill any healthy probiotics.
Final Thoughts
Lacto-fermentation is a safe and exiting way to preserve your food.  It is a technique that has been used for as long as man has been preserving food and it works incredibly well.  If you have never done it before don't be intimidated.  Build a Mason jar fermenter and get something fermenting.  If it goes wrong you will know it.
Feel free to share your experiences and tips in the comments.