Are you looking for ways to supplement your backyard vegetables with your own source of antibiotic and additive free meat? If so, there are few things you can do that will be more productive than to begin raising rabbits, especially if you live in the city.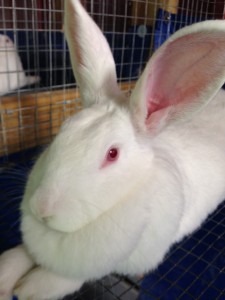 Rabbits are the ideal backyard protein source for those that live in an urban environment (make sure you check your local laws though).  They are quiet, take very little space (a buck and two does can be kept in a garage and take up less than a 6 foot by 4 foot footprint), and take very little time to attend to (I spend about 15 minutes a day on most days).
Rabbit meat tastes great (similar to chicken believe it or not) and is considered to be very nutritious.  Rabbit meat is low in cholesterol and fat, and high in easily digestible protein.
Aside from rabbits being a great meat source, rabbit droppings make fantastic fertilizer.  Unlike most forms of animal manure, rabbit droppings don't need to be composted before application.  They will not burn your plants and are considered to be one of the best forms of organic fertilizer.  They are so good in fact that you can often sell some of the droppings to help cover the cost of food.  I have sold feed sacks full of dried rabbit droppings (very important that you dry them first) for $10 to $15.
When it comes to raising rabbits, you can get as complex as you want to get but it really only requires a few basic things:
 Rabbits.  You will need a good breading stock.  Check Craigslist or a local rabbit breeder and try to get rabbits that are well known as meat breads.  New Zealand Whites (what I raise and pictured above), California, and Florida White's are all known to be good meat rabbits.  You can use other breads but these breads are a good first choice because they tend to grow quickly (costing less in food to get to butcher weight) and have a high meat to bone ratio.  There are larger rabbit breads but their bones are much bigger so you don't get as much bang for you buck so to speak with the final outcome of meat on the table.  A good starting ratio is 1 buck and 2 does.  If you live in an area that is hard to find rabbits you may want to get 2 bucks just in case one doesn't perform.
Rabbit Cages.  You can buy cages or build cages.  If you are only going to raise a few rabbits and butcher the young at 8 to 10 weeks (or about 4 pounds) you may be better off buying factory made cages.  I don't have much experience with them myself so I can't really give a lot of advice but I hear that the ones you buy at local big box stores or farm supply stores are not very sturdy.  There are special rabbit cage suppliers online that have very good reputations.  A simple google search will give you a few to choose from.I do suggest that you go with all wire cages.  Do not use wood on the inside of the cage.  First of all, rabbits will chew just about anything you put on the inside of their cage and will quickly destroy wooden cages.  Secondly wood will soak up urine and create a very unsanitary conditions.  Wire will allow the droppings to fall through and provides plenty of ventilation to help avoid respiratory problems.  Make sure you use good sturdy 14 or 16 gauge galvanized cage wire.  Hardware cloth or chicken wire will not hold up.
Feeders.  I suggest J-Feeders that hang on the outside of the cage.  These are nice because you can fill them without having to open the cage and they typically have screen bottoms to allow dust to fall through so they are somewhat self cleaning.
Water.  Rabbits need access to fresh, cool water at all times.  During the summer you might want to use a water bottle that hangs on the cage.  There are several different types to chose from but I find that the bottles with the gravity ball valve (the kind you find in most pet stores) always leak and I prefer one with a valve and flip top that can be filled without removing from the cage.If you live in an area that freezes in the winter and will be having rabbits outside you will need to use a water bowl (try to get metal so rabbits don't chew it up).  Water bottles freeze very quickly in the winter restricting access to water.  Changing water in frozen water bowls once in the morning and again in the evening will provide plenty of water for the rabbits to drink before it freezes.
Shade and Wind Block.  If you are keeping rabbits in a building this isn't too much of a concern but if you are keeping them outside you need to provide shade.  Rabbits handle the cold very well but they do not like the heat and rabbits exposed to direct sunlight in summer will not last long.  In fact, during the summer months if temperatures rise much above 8o or 90 degrees you really need to provide some way for rabbits to keep cool (I find 2 litter bottles filled with water, frozen, and placed in their cages during the hottest part of the afternoon work very well).You will also need to provide some kind of wind block and keep them fairly draft free.  This can be something as simple as a small lean to style shed with tarps on the front or, again, inside an outbuilding or garage.  Either way, they need to be protected from the weather.  They can handle the cold temperatures of winter but if they there is a constant draft on them they will develop illnesses.
Rabbit Food.  Rabbit pellets are a great way to start and will keep your feeding routine very simple.  Most meat breeds need about 8 ounces of pellets per day.  I do suggest buying from a local feed store as they will be much cheaper than pet stores.  Try to get a pellet that contains between 16% and 18% protein.  Do not overfeed or your rabbits will gain too much weight and make breeding difficult.  In addition to the once a day feeding of pellets rabbits do well with a free choice of hay.  I like to use a Timothy hay but Alfafa hay is fine to use.
Those are pretty much the basics.  There is much more that you can learn and I do suggest that you read up on it.  Pick up a copy of Storey's Guide to Raising Rabbits.  This is widely considered to be the best book available on raising rabbits and will give you everything you need to know.  Read it through before purchasing your first rabbit and you will have a very good foundation to build on.
I will be following up with some additional posts on cage building, breeding, and processing.  If you have any comments or questions please feel free to leave them in the comments.