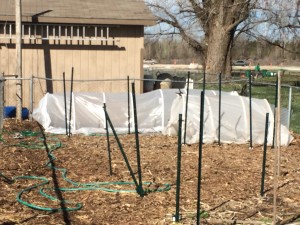 Well, my plan kind of worked (http://www.slightlyrednecked.com/2016/03/129/).  I am starting to see some starts to everything except the spinach.  Unfortunately there is a cold front coming in with night time lows expected to be in the mid to low 30's.  These are cold hardy crops but they still need to be protected from the cold front at least until they get well established.
Luckily I planned ahead and put up the frame work for the low tunnels at the time of planting.  All I had to do was place the plastic cover over the frames and I am good to go.  The only tricky part is today is going to be very warm (about 75 degrees) so I can't close them up just yet (don't want to bake the plants) but the low tonight is expected to get down to 35 degrees.  I need to get them closed up with at least a few hours of sunshine so they have an opportunity to build up a little heat before the sun goes down and hopefully it is enough to hold them over until morning.
If you need to see how I built these tunnels you can check out my video on how to build low tunnels here:
I am pretty optimistic about what to expect but I will keep things updated.
Thanks for reading and please leave a comment so I know you were here.  That way I am encouraged to keep writing.  🙂
As always, God Bless.